Coworking in Spain – Coworking under the sun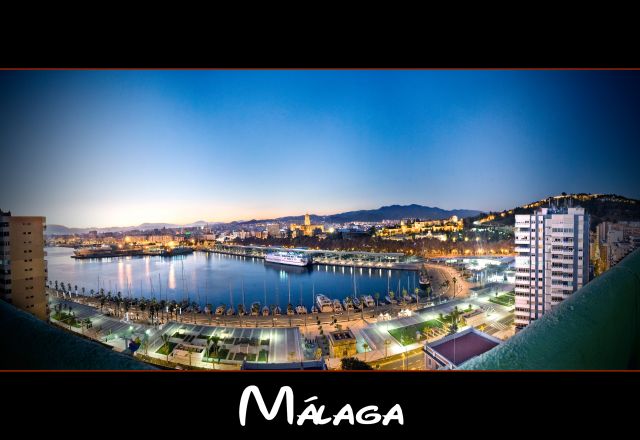 At Coworking Málaga you receive everything you need from one source
an excellent place to work with a fast wireless internet connection

inexpensive accommodation in an apartment with others

Spanish-Course
More details to language-courses and accomodation you will find on www.aifp.org. The school is situated in the heart of Malaga as well. So you can reach the school, our Coworking Space and your accommodation in a walking distance.
To Freelancers and companies who would like to build up their subsidiary here in Spain, we offer the perfect sunny location under a blue sky. You will find us in the city centre of Malaga with ideal transportation access (bus, train, metro, motorway, airport). The professional backround helps you to find and realize great ideas. The Coworking office is full equipped and scores with modern infrastructure.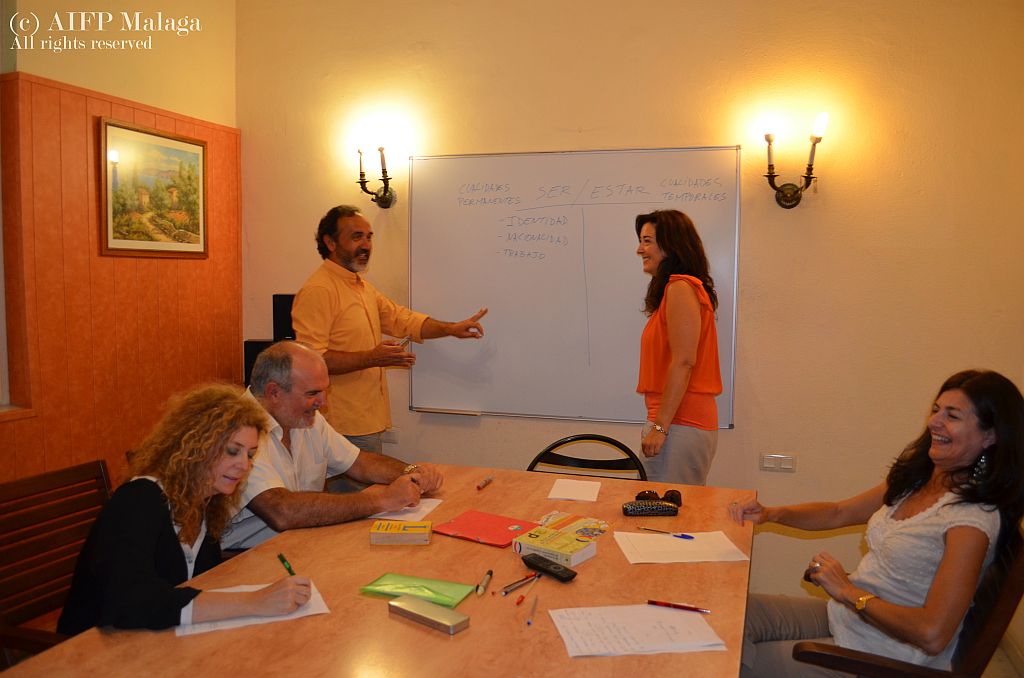 Our offer
A: 3 months Coworking "To spend the winter in Spain"
02.02.2014–26.04.2014 (12 weeks)
Coworking Gold + single room in an apartment with others + Spanish language course light (daily 1,5 hours / Spanish-Course for beginners)
-> 789 Euro pro Monat (bookable just for 3 months)
B: 4 months Coworking "Enjoy Coworking Málaga"
Coworking Gold + single room in an apartment with others -> 588,50 Euro
-> 999,50 (inclusive Spanish-Course, 3 lessons daily, all language levels)
C: 2 Wochen Coworking "Shorter Stay Spain"
Coworking Gold + single room in an apartment with others
-> 468,50 Euro
-> 599,50 (inclusive Spanish-Course, 3 lessons daily, all language levels)
Day of arrival always on sunday, leaving day on saturday. Days extra can be booked additionally as well as double room for 2 persons or with a partner. Also we arrange for you stays in a host family or ins mini-apartments. The packages already include VAT 21% on the Coworking-Service, language course are not subject to the VAT.
The packages B and C are available in 2014 on 3rd February, 3rd +31th March, 14th April, 5th May, 2nd +30th June, 14th +28th July, 4th +18th .August, 1th September, 6th October, 3rd November and 1st 2014
Have you ever heard about Coworking?
The concept is quite new and represents a conversion process in the world of business. The word "Coworking" is a composition of "co" and "working". The term was rosen up by Bernie Dekoven in 1999. But really known was it ten years later by Brad Neuberg, who opened up the first Coworking Spaces in the United States of America. Today exist more than 2.000 offices like that in all over the world.
On what does Coworking relay?
It is a new sort of working, that permits you to share an office with others, physically or virtual. Freelance and entrepreneur working together at the same place. In that way they are able to develop projects with other Coworkers or on their own in a professional atmosphere.
A Coworking Space is much more than just a place for working. There are not only chairs, desks and wireless lan. The true value makes the community – your colleagues! You gain a lot from them, because you can make friends or profit from synergetic effects.
In contrast to working at a desk at home, the best alternative is Coworking, because you wouldn´t be left in isolation. The get together of different caracters prevents you from being a loner. On the other hand you get the chance to work on your own undisturbed.
What else is there to be said for it? It is the professional atmosphere in which you can receive clients. There can be offered different kind of meeting rooms.
So what are you waiting for? "Just do it!"
Could you imagine to join us here? We are looking forward seeing you!
On two floors there is enough space for elaborating a new project or driving forward you business ideas. At your disposal are 3 rooms for working together. Beside of a kitchen and 3 bathrooms we offer 3 conference rooms.
1. Big hall aprox. 60m² / tables 2,40m x 0,60m y 2,00m x 0,60m / confortable
swivel chairs are available to 20-25 Coworkers
Smaller room aprox. 25m² / Coworking-desks / capacity für 8-12 Coworkers

Common room with a round table and 4 chairs, 15m² suitable for smaller teams or for breakfast, discussions or just talking, to have a pause
Our team is international, German-Spanisch, so we speak German, Spanish and we are fluently in English. So there will always be a contact who can speak with you in your mother tongue.
The team of Coworking Málaga: Sabrina, Alberto, Victor and Michael.
Here you will find a map that shows where our Coworking Space is located:
http://coworking-malaga.org/informacion-coworking-malaga/
Rates Coworking Málaga 2014
Take a look at our Coworking Rates plus additional services. Should there be further questions, please don´t hesitate to contact us. Of course we create personal offers as well, if the rates do not suit to your belongings.

If you start, for example the 20th of a month, we calculate the remaining days of the actual month. The packages we offer concerning accommodation you will get from Sunday to Saturday.

To the prices regarding "Just Coworking" has to be added the VAT of 21%.
Coworking 1 Day
________________________________________________
Characteristic Coworking 1 Day

Normal price

19,50 € a month

Flexible desk

Monday to Friday at the opening hours 9 am-9 pm

Internet

802.11

n

Team

Likeable colleagues

Perfect location

Alameda Principal, city centre

Desk

free to choose but at the end of the day you leave the desk free

Included

Running costs like electricity, water, further taxes, cleaning

Kitchen

for preparing food and coffee and tee

Printer+Fax

included (until 5 print-outs)

Discount

For meeting rooms and other activities
+ VAT 21%
Coworking 1 Week
________________________________________________
Characteristic Coworking 1 Week

Normal price

59,50 € a month

Flexible desk

Monday to Friday at the opening hours 9 am-9 pm

Internet

802.11

n

Team

Likeable colleagues

Perfect location

Alameda Principal, city centre

Desk

free to choose but at the end of the day you leave the desk free

Included

Running costs like electricity, water, further taxes, cleaning

Kitchen

for preparing food and coffee and tee

Printer+Fax

included (until 25 print-outs)

Discount

For meeting rooms and other activities
+ VAT 21%
________________________________________________
Characteristic Coworking Silver

Normal price

179,50 € a month

Flexible desk

Monday to Friday at the opening hours 9 am-9 pm

Internet

802.11

n

Team

Likeable colleagues

Perfect location

Alameda Principal, city centre

Desk

free to choose but at the end of the day you leave the desk free

Included

Running costs like electricity, water, further taxes, cleaning

Kitchen

for preparing food and coffee and tee

Printer+Fax

included (until 100 print-outs)

Discount

For meeting rooms and other activities
+ VAT 21%
Coworking Gold
________________________________________________
Characteristic Coworking Gold

Normal price

239,50 € a month

Flexible desk

Monday to Friday at the opening hours 9 am-9 pm

Internet

802.11

n

Team

Likeable colleagues

Perfect location

Alameda Principal, city centre

Desk

free to choose but at the end of the day you leave the desk free

Included

Running costs like electricity, water, further taxes, cleaning

Kitchen

for preparing food and coffee and tee

Printer+Fax

Inclusive Inclusive (until 100 print-outs)

Discount

For meeting rooms and other activities

Locker (roller container)

included

Meeting room

5 hours a month for free

Usage letter box / address

included
+ VAT 21%
Additional Services (If not included in the fare already):

Option 7/24h

20 € (+ 80 € on deposit for the key)

Locker (roller container)

12 €

Locker Schließfach (bigger that roller container)

18 €

Meeting room 1 hour

18 €

Meeting room 2-4 hours

40 €

Meeting room untill 8 hours

75 €

Landline (own number)

On request

Usage letter box / address

12 €

What else?

Videoconferencing until 6 persons
+ VAT 21%